The South Bank Centre's new portable Gamelan reached Waterloo's Johanna Primary School this week from Indonesia after six weeks in transit and a year in the making.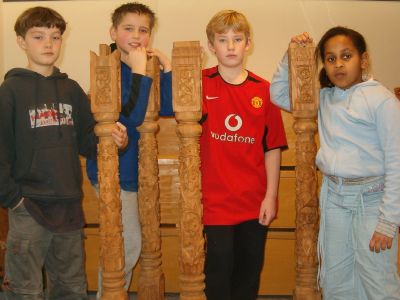 Two years ago the South Bank Centre commissioned specialist Pak Tentrum to make a portable Gamelan for the centre's education programme. After leaving Semarang, Indonesia on 30 October it finally arrived at Southampton Docks on 27 November and reached its destination this week when children from Johanna Primary School unpacked each individual gong, bar and stand from its specially made flight case to reveal a Gamelan that is far more mobile than any other currently in existence.
A Gamelan is a traditional Indonesian percussion ensemble consisting primarily of tuned gongs and metallophones. It is played by up to 20 musicians and singers, often accompanied in traditional performances by dance and shadow puppet theatre. Working with the Gamelan is a unique musical experience which, as well as being rewarding for the individual, encourages team-work and builds self-esteem. The Gamelan is a powerful tool for working with diverse groups, crossing language, ability and behavioural barriers.
SBC already has a magnificent Gamelan but because of its ornate and, in places, delicate design, and its sheer scale, it has not been practical to 'take the gamelan to the people'. A frantically busy schedule of workshops, classes and performances at its South Bank home indicated a need for an extended programme of activity that could take place outside the building, making the Gamelan experience more accessible and more widely available.
As well as school residencies, projects and workshops, plans – following successful pilot projects – for a programme of activities in hospitals and prison wings are featured in a calendar of 'engagements' for the gamelan in 2005.
The Royal Festival Hall closes for a major refurbishment in July 2005, so the timing of the portable Gamelan's arrival could not be better. Re-opening in January 2007, the Royal Festival Hall will house a new Education Centre, boasting a dedicated suite of education rooms including a new gamelan room.
The specially made portable Gamelan has been named 'Sekar Tunjung Sari', which means, 'essence of the lotus flower'.
Until July 2005 the Gamelan will be in residence on a half-termly basis in four different Lambeth schools.