Christmas Midnight Mass from Southwark's Roman Catholic Cathedral was broadcast across the nation on BBC One and to British armed forces around the world.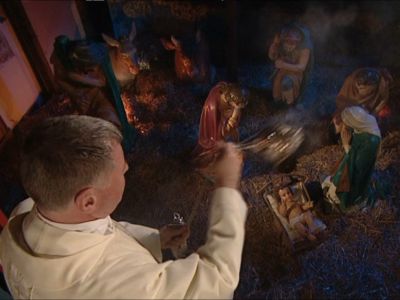 Canon James Cronin, Cathedral Dean, censes the newly blessed Crib at the start of Mass
The celebrant and preacher at the Mass was the Archbishop of Southwark, the Most Revd Kevin McDonald. Canon James Cronin, Dean of
St George's Cathedral
, and the cathedral clergy were concelebrants.
The Archbishop introduced the service by explaining to the TV audience that St George's is "just south of the River Thames, ... across the road from the Imperial War Museum, around the corner from the Old Vic Theatre and ... very close to the London Eye".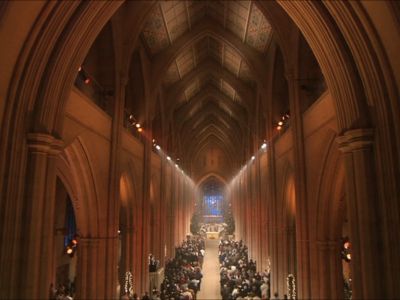 Both the Cathedral's main choir of men and boys and the newer Girls' Choir played a key role in the service, which was sung to Jean Langlais' Missa Salve Regina setting.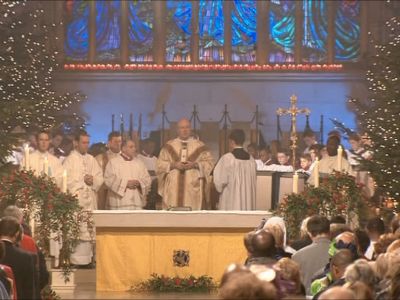 The cathedral was lavishly decorated, with no fewer than six large Christmas trees in the church and a seventh outside the main doors.
The Mayor of Southwark Cllr Anne Yates and Simon Hughes MP were in the congregation.
The live broadcast opened with a panoramic shot of the SE1 night skyline from 100 Westminster Bridge Road, the tall apartment block whose residents include Old Vic artistic director Kevin Spacey.
This year's live television broadcast followed Radio 4's transmission of Midnight Mass from the cathedral last Christmas.