London saw in 2005 with a £1 million fireworks display at the London Eye. Before midnight a silence was observed for victims of the Asian Tsunami disaster.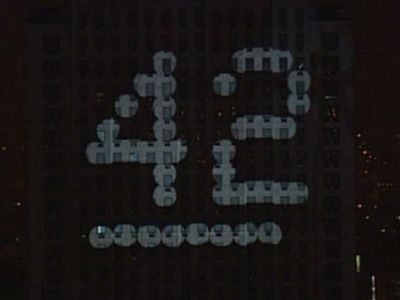 Countdown to midnight on the Shell Centre
Ken Livingstone, the Mayor of London, said: "Tonight London will remember all of those killed by the tsunami in Asia and beyond and pledge that we will do everything in our power to assist the relief effort for those now living in catastrophic conditions. Our hearts go out to the thousands of Londoners and other people throughout the world who have lost family members and friends as a result of this calamity."
People gathering in Trafalgar Square, Parliament Square and along the Embankment were asked observe the two minute silence at 11.55pm. Screens in Trafalgar Square and Parliament Square provided details of how to contribute to the relief effort.
Organisers expected 150,000 people to gather around the Embankment and South Bank to see the display.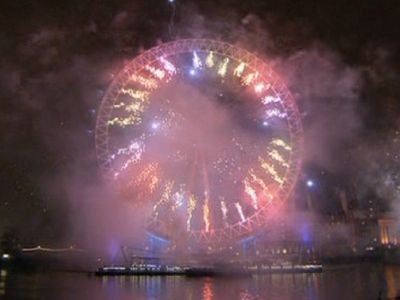 The
London Eye
was due to be illuminated from 6.30pm, but a planned light show due to start 10 minutes before midnight was cancelled as a mark of respect for the victims of the Tsunami.
At 11.59pm a 60-second countdown to midnight began, followed by a 10-minute firework display.
The fireworks were choreographed by Jack Morton Worldwide, the company responsible for staging the opening and closing ceremony of the Athens Olympics.

London 2012 bid chairman Lord Coe said: "At New Year London's unique and internationally recognised skyline will be lit up, showing what a stunning city it is.
"Imagine what a fantastic backdrop London could provide for the Olympic Games and Paralympic Games in 2012!
"I hope that everyone enjoys the fireworks, and that they make it a New Year's Resolution to 'Back the Bid' and help London win the Games for 2012."
2005 will be a significant year for the Bid. In February, the International Olympic Committee's Evaluation Commission will visit to see for itself how London's plans are shaping up. And on 6 July the IOC will meet in Singapore to decide whether London will be chosen as host for the 2012 Games.