Local MP Simon Hughes has made a series of end of year thank you visits to postal workers at sorting offices in his North Southwark and Bermondsey constituency.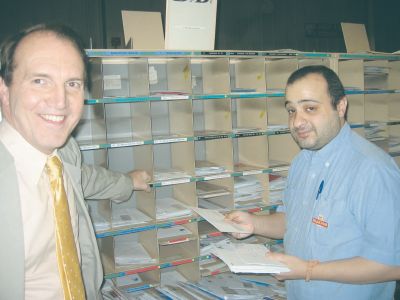 SImon Hughes with one of the team at Mandela Way
This year he added New Year's Eve visits to the traditional Christmas week visits he has made for 20 years.
Simon Hughes visited the offices in Crampton Street in Walworth, and in Mandela Way in Bermondsey. This was the first Christmas when Rotherhithe post, like the SE1 post, was sorted in Mandela Way. The Spa Road office is no longer used for general SE16 sorting.
This was also the first Christmas when the new single daily delivery system was in place throughout Southwark.
Mr Hughes discussed with staff and management pay, hours, recruitment and retention of staff, postal rounds, security of mail and parking for postal workers.
After his visit Mr Hughes said: "I am a huge supporter of a publicly owned Royal Mail and its staff, and strongly opposed to privatisation.
"The post is one of the most valued and valuable of local and national services, with many real servants of the public as its employees.
"But to stay competitive and trusted, the Royal Mail needs to keep improving its service, not reducing it.
"In 2004, there were far too many complaints about the local delivery services.
"Royal Mail must ensure that there is no recurrence of these problems in south east London in 2005."