The film Closer, a story of four people who meet by chance and experience painful love, was first told on the South Bank when Patrick Marber's play had its première at the National Theatre in 1997.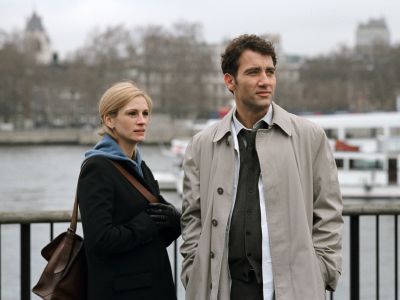 So it is appropriate for the film to be partly shot on the South Bank. The first glimpse of SE1 is when Dan, played by Jude Law, is seen chatting up American stripper Alice, Natalie Portman, on a bus passing under
Blackfriars Bridge
. Dan is on his way to work in the obituaries department of a newspaper somewhere near the new Express building.
The other characters are Anna and Larry, played by Julia Roberts and Clive Owen, who meet by accident at the London Aquarium and admire the river view from below the London Television Centre.
As in the Bridget Jones films, the other locations where the characters fall in and out of love are just across the river in the City or Westminster.
Clive Owen was in the original cast where he played not Larry but Dan. He loved playing Dan but describes playing Larry as a "real treat" due to Marber's dialogue.
Closer is Marber's first screenplay but, like his stage version, it is already has five Golden Globe nominations. The familiar locations add to the enjoyment and make up for any disappointment which may be felt by those who loved the play. But this is a film to see at the cinema as the advertised "very strong language and sex reference" will keep it off the television screens for some time.
• Closer (cert 15; 104 minutes) is on general release.
• Buy the script of Patrick Marber's play from Amazon.co.uk
• Download the Closer Movie Map showing London film location for the movie.