An Evans bicycle purchased in Kennington Road in 1929 is the newest vehicle to join the collection at London's Transport Museum.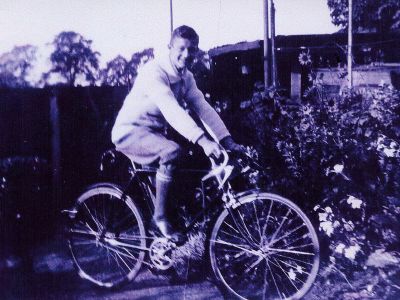 Mr Wagstaff on his bicycle in his twenties
The recent donation is from 95-year-old William Wagstaff who bought the bike in 1929 and has finally decided to hang up his bicycle clips for good.
Mr Wagstaff purchased the bicycle when he was 20 years old from FW Evans in Kennington Road on 14 May 1929. For many years he was a member of the Cyclists' Touring Club and his spare time was spent cycling all over the country. The bicycle is still in full working order despite having covered thousands of miles.
In 1938 he married and moved to Shirley in Croydon. During World War II he commuted on the bicycle to the Bermondsey telephone exchange where he worked as an engineer. The museum has also been given the original Black Lucas 'Silver King' cycle lamp Mr Wagstaff used during this period, still half covered with hand-made blackout paper.
FW Evans no longer makes bicycles but it has a burgeoning chain of retail stores, including branches in The Cut, Waterloo Road and London Bridge. The original Kennington Road shop is now occupied by the Cam Pharmacy.
London's Transport Museum in Covent Garden is about to begin a major redevelopment which will see the museum expand its displays to include the River Thames, cycling and congestion charging as well as buses, trams and the underground.