Roman Catholics and Anglican Christians in Southwark have been getting to know each other through walking, praying and eating together in each other's churches.
On Friday Roman Catholic Archbishop of Southwark Kevin McDonald preached at St Olav's Lutheran Church in Rotherhithe and a large congregation enjoyed plenty of home-made waffles.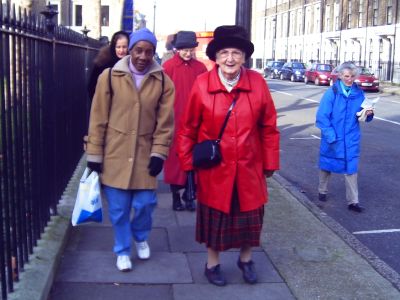 On Saturday members of four SE1 churches walked from
Southwark Cathedral
via St Matthew's-at-the-Elephant in
Meadow Row
and Crossways URC to
Christ Church Southwark
in
Blackfriars Road
, where they had lunch together.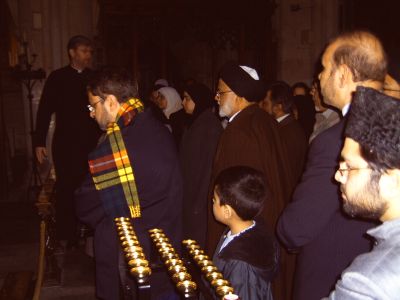 Canon Bruce Saunders gives members of the Hyderi Islamic Centre a tour of the cathedral
On Sunday the hospitality was shared even wider with an inter-faith tea to welcome a group from the Hyderi Islamic centre in Streatham to the Cathedral. The two groups were delighted to learn more of the aspects of faith they share and about the way the cathedral congregation worships.
Next Sunday evening (30 January) at 6.30pm there will be a 'Thomas Mass' at Southwark Cathedral by London Bridge, which is an opportunity for those learning about and questioning faith to participate in a more informal service which originated in this form in Finland and is widely used by Scandinavian churches. Singers and musicians from both Southwark cathedrals will be joined by Finns, Swedes and Norwegians. Everyone will enjoy cake and coffee together afterwards.