It's hard to know quite what to make of The Triumph of Painting. "No self-respecting public gallery could put on a show like this, with no theme, no intellectual agenda, and a very rum load of stuff" wrote Tom Lubbock in The Independent.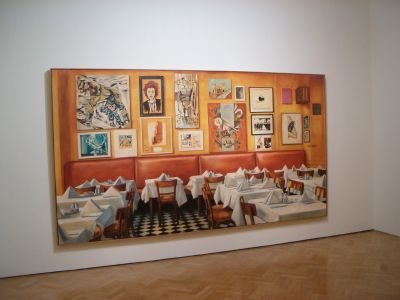 This is part one of a three-part survey of contemporary painters. Martin Kippenberger, Peter Doig, Marlene Dumas, Luc Tuymans, Jorg Immendorff and Hermann Nitsch are the established artists featured in the first installment, on show till May. The next two parts will showcase younger artists.

The Saatchi Gallery's
County Hall
home is a warren of corridors and small rooms, many containing a single painting. The fireplaces, clocks and other reminders of the building's previous role as the home of London's government provide a refreshing antidote to the relentless white walls of
Tate Modern
.
The lack of a floorplan or signage means that it's quite fun to wander around and discover unexpected corners. Sadly the £9 admission fee means that taking a casual stroll round the gallery is out of the question.
Book tickets now for the Saatchi Gallery
The Triumph of Painting
by Barry Schwabsky is published by Jonathan Cape (£35)