Holocaust Memorial Day has been marked with a ceremony at the Soviet War Memorial in Geraldine Mary Harmsworth Park.
A brief service – which included the singing of Psalm 23 – was led by Rabbi David Mason.
The gathering was addressed by the Mayor of Southwark Cllr Anne Yates, Robert Wareing MP, chair of the All-Party Parliamentary group on Russia, and a representative of the Russian embassy.
Wreaths were laid by the Mayor of Southwark and MPs
Simon Hughes
and Robert Wareing. Floral tributes were also laid on behalf of the embassies of Poland, Belarus, the Russian Federation, Kurdistan, Ukraine and Uzbekistan.
Further wreaths were presented by the Russian Convoy Club, the Bermondsey and Rotherhithe branch of the Royal British Legion and the Soviet War Memorial Trust. Another wreath was laid by past Mayor of Southwark Charles Cherrell on behalf of Southwark Pensioners.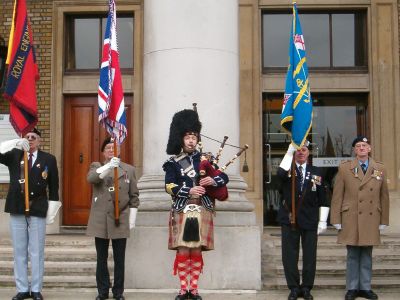 Representatives of the Russian military and the American and French embassies were also in attendance.
A bagpiper led the procession to the Imperial War Museum where refreshments were served.