The BFI London IMAX Cinema has now taken £636,228 in ticket sales for the 3D version of Tom Hanks's Christmas animated film The Polar Express.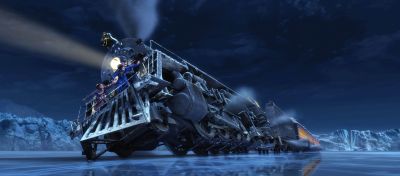 The Waterloo cinema is now at number 4 in the highest grossing IMAX cinemas for the film worldwide and no 1 by a wide margin outside the USA.
Due to continuing public demand, with 65,000 tickets now sold since 3 December, the film's run on the South Bank has been extended for the fourth time to 13 March.
The cinema recorded its highest ever number of admissions for one month in its 5 year history during December 2004, with almost 52,000 people through the doors, over 40,000 of whom came to see The Polar Express. In a 12-day stretch before and after Christmas Day, all 40 performances of the film were completely sold out.
Following the success of IMAX DMR films such as The Matrix Reloaded and Spider-Man 2, Warner Bros. Pictures' The Polar Express was the first Hollywood movie to be digitally re-mastered into an IMAX 3D Experience. The IMAX DMR process re-masters 35mm live-action films into 15/70 film format, enhancing the image and sound for projection onto the giant screen with perfect picture quality and 12,000 watts of digital sound. IMAX Corporation has confirmed that the next two Hollywood features to undergo the DMR process are the animated adventure Robots, due to open in March and Tim Burton's Charlie and the Chocolate Factory due for a summer release – albeit in 2D.
"We're now in talks with several distributors regarding major new films for 2005," said Jim Hamilton, Head of BFI Exhibition. "Our phenomenal success with Polar Express, much of which was generated from word-of-mouth, has shown how much cinema audiences love the giant screen and the big effects experience. We've even had people coming back to see it for the second and third time. Now that IMAX DMR has proved its appeal, this looks like being a really exciting year for big screen fans."
Customers are still advised to book in advance for weekend performances of The Polar Express. Bookings can be made in person at the box office, by telephone on 0870 787 2525 or online.