Nearby residents have been visiting the exhibition of Founder's Place proposals at St Thomas' Hospital.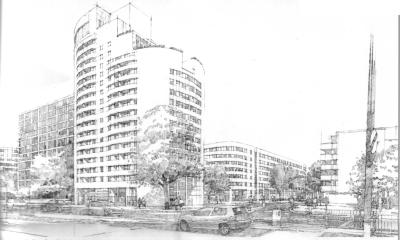 The site, opposite St Thomas' and bounded by
Archbishop's Park
,
Lambeth Palace
Road,
Upper Marsh
and
Carlisle Lane
, was once occupied by a school and prefabs. A
plan for the site produced in 2003
was abandoned when the developer Taylor Woodrow pulled out.
The new masterplan has been devised by architect Sir Terry Farrell. Existing flats will be replaced to house both the present tenants and key NHS workers. A planned staff nursery will have 102 places.
Ronald McDonald House will be relocated from Guy's to a new building providing modern accommodation for families of very sick children. A private residential development would help to fund the scheme which has provision for 45 affordable flats.
The planning application is expected to be submitted to Lambeth Council this summer.
• The exhibition is open in the Central Hall of St Thomas' Hospital on Tuesday 8 February from 2pm to 8pm.
• The plans will also be presented to a general meeting of the Waterloo Community Development Group at the Waterloo Action Centre, 14 Baylis Road at 7pm on Wednesday 9 February.