Two men have been sentenced to 11 years and nine years imprisonment for a series of violent robberies in July 2004 in the areas around Blackfriars Road and Guy's Hospital.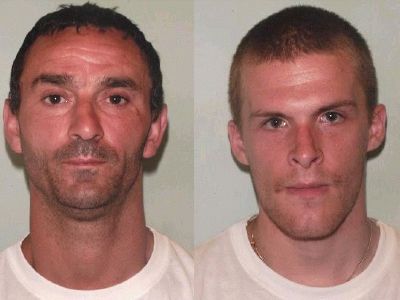 Jailed: Christopher Ward (left) and Gavin Lawton
23-year-old Gavin Lawton, unemployed, of no fixed address and 42-year-old builder Christopher Ward, also of no fixed address, appeared for trial at the Inner London Crown court on Tuesday 1 February, charged with a series of robberies in Southwark between 21 and 26 July 2004, as well as wounding and GBH charges. Lawton was additionally charged with attempted robbery.
Lawton pleaded guilty to all the charges against him. Ward pleaded not guilty and after a two-week trial was found guilty on all counts. Both were remanded in custody for sentencing. Lawton received a total of nine years imprisonment for five counts of robbery and three of GBH. Ward received a total of 11 years imprisonment for three counts of robbery and two counts of GBH.
Officers from Southwark Borough Task Force first identified a series of robberies at the end of July 2004. CCTV footage from the scene of one of the robberies showed two men entering the car park at Snowfields, just behind a woman who later became a robbery victim.
On 30 July 2004, officers heard of two robbery suspects frequenting the area around Guy's Hospital. Southwark Task Force officers were specifically deployed to this area. Around 5.50pm, the suspects were spotted in St Mary Magdalene Churchyard, in Long Lane SE1.
They were challenged and one suspect, later identified as Gavin Lawton, immediately surrendered. The other, Christopher Ward, tried to run away and was chased by a police dog.
Ward then turned and punched the dog twice on the head. He was eventually detained by officers after a violent struggle where CS spray was used.
Lawton and Ward were charged on 1 August 2004 and remanded in custody.
The police dog was taken for emergency treatment to ease his injuries but was back at work the next day.
"Fortunately, a timely investigation and effective action by police stopped these men from committing any more mindless attacks, said DS Simon Messinger of Walworth CID. The area they operated in is of great significance to the borough, attracting hundreds and thousands of visitors, tourists and commuters every day.
"These two men used an extraordinary level of violence and showed utter callousness towards their victims. Everyone will be relieved to know they are facing a long sentence in prison."
Case A
.
The first of the robberies was committed on 21 July in
Burrell Street
(off
Blackfriars Road
) at 9.42pm. A 51 year old man had a knife pressed against his neck and £126 cash, a compact disc player and a video tape stolen from him.
Case B
On 23 July at 1pm a robbery took place in the NCP car park in Snowfields. A 56 year old woman was robbed at knife point of cash and a £500 watch. During the commission of this offence the victim received a slash wound to her left hand that required multiple stitches.
Case C
Also on 23 July at 9.30pm a 30 year old man was robbed after a knife was put to his head and threats were made to kill him in Meymott Street (off Blackfriars Road). The property taken on this occasion was cash and a mobile phone.

Case D
On 25 July at 2.20pm a robbery took place in Tanner Street. A 42 year old man was approached by a suspect, threatened with a knife and money demanded. The victim denied having any money but was attacked with the knife, received stab wounds to his hand and the suspects made off empty handed.
Case E
On 26 July the last offence identified in the series took place in
Fair Street
. A 59 year old man was robbed of his wallet containing £20. He was beaten to the floor and repeatedly stamped on and hit around the head; then finally he was stabbed three times in the chest and stomach by the suspects.
Anyone who has been the victim of a robbery is asked to call Crimestoppers on 0800 555 111.