King's Reach Tower in Stamford Street - soon to be vacated by IPC Media - is to be reclad and will gain four more storeys and a cluster of smaller towers.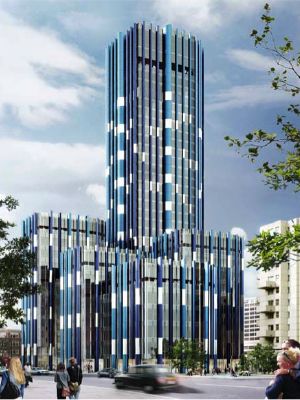 The planned makeover for Kings' Reach Tower
Capital & Counties – the property company which bought the building in 2001 – has submitted a detailed planning application to Southwark Counil for the remodelling and redevelopment of the King's Reach office, retail and residential complex on
Stamford Street
.
The proposals have been designed by architectural practice Make, who are also involved with the Elephant & Castle masterplan.
Last May existing tenants IPC Media – which publishes magazines from Nuts to Marie Claire to Country Life – confirmed its plans to move to the new Bankside123 development in Southwark Street.
The developers claim that the proposed scheme has been the subject of "extensive local consultation" which has influenced the final design.
A landmark in the area, the 30-storey King's Reach Tower was built in 1972. The existing tower will be retained, a further four floors added and it will be re-clad to provide modern energy efficient floor space.
The developers say that the presence of the tower will be transformed by the imaginative use of colour and light. An 'office village' will be created by replacing the existing low rise office building with a series of mini towers clustered around the base of the main refurbished tower.
New retail units and cafes will be introduced to create "vibrant and friendly" public spaces replacing the existing "unattractive and dated" Milroy Walk shopping arcade.
Overall, office and retail floor space will increase from 274,000 sq ft to almost 400,000 sq ft.
"The King's Reach project presents a fantastic opportunity to completely revitalise this area of Southwark," said Ken Shuttleworth of architects Make. "The existing tower will be transformed by a new coloured cladding system that incorporates high levels of insulation and solar control together with a natural ventilation system, which will vastly reduce the energy consumption of the development.
"The scheme creates an entirely new public space fusing the river walkway with Stamford Street and Blackfriars Road to the south. The principal tower combines with new lower towers to form a cluster, which responds to the scale and mass of its surroundings. The office and retail accommodation will provide an exciting environment for the local residents, visitors, occupiers and the community as a whole."
The King's Reach redevelopment will be just one of a number of high-rise developments in the Stamford Street area: Beetham is expected to put forward plans for a tall building on its 10 Blackfriars Road site, and Land Securities is currently preparing plans for a site next to Christ Church.