SE1 LUV launched their album Life Through Music: From Dependence to Independence with a huge release party at the Coronet at the Elephant and Castle.

Soul Solid Twins at the album launch event
SE1 LUV
, an organisation under the umbrella of the Kickstart Youth Inclusion Project, began work on the album in the second half of 2003. The party, which included performances from artists on the album, was a landmark for the youths involved in the recording process. The record's producer Joelle Reefer said of the album: "Every track depicts a young person's life in the way see it, the way they experience it."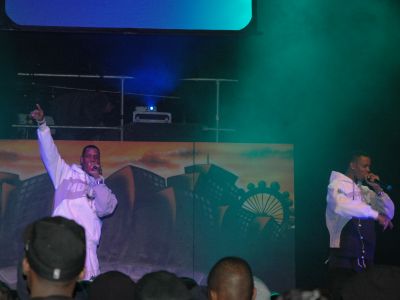 Soul Solid Twins at the album launch event
Mayor of Southwark Anne Yates, who "hopes that the album sells a million copies," was among the enthusiastic crowd to "let the kids know that the council cares." She expressed a desire that, through programs like SE1 LUV, the children in the area would "be involved their borough."
Copies of the record can be obtained by calling Kickstart Youth in Progress on 020 7798 5796.