Fathers' rights campaginer David Chick - who the London Eye dressed as Spiderman last year - has been found not guilty of causing a public nuisance.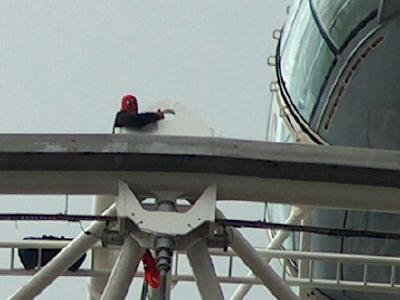 David Chick at the top of the wheel on 11 September 2004
37-year-old Chick, from Burgess Hill, had told the Inner London Crown Court that it was "a peaceful political protest" last year.
Pauline Thompson, prosecuting, told the court: "Somewhere between 15,000 and 20,000 people had planned to visit the Eye that day. Those people were prevented by this man's actions of their enjoyment of the Eye."
In a statement written before his protest Mr Chick told police that his demonstration was in accordance with his rights under the Human Rights Act.
"I do not believe that the owners of the London Eye, or any members of the public, would regard this act as a nuisance," he wrote.
Officers said he had been found carrying a portable radio, climbing harness and rope, helmet, a Spiderman outfit, chocolate bars, sandwiches and cigarettes.