Volunteers from the Elephant and Castle joined Trees for Cities last week in planting trees in front of the job centre on Newington Causeway.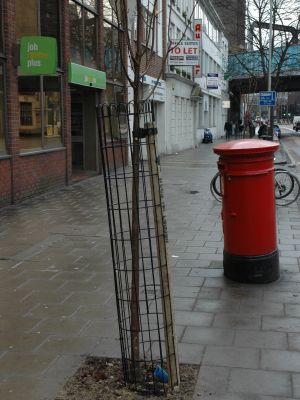 Newington Causeway">
This event follows a similar tree planting on Newington Estate that drew about fifty local residents into the festivities. The new trees are part of a larger project through the collaboration of Trees for Cities and the Elephant Impacts programme.
Graham Simmonds, Chief Executive of Trees for Cities, says: "We will be planting over 50 new trees on streets and estates in the coming weeks thereby adding beauty and a sense of calm to the harsh urban surroundings, as well as improving the area."
The community's new developments are being funded by the London Borough of Southwark, Elephant Links Regeneration Partnership, the North Southwark Environment Trust and the Charles Hayward Foundation.