The Annual Exhibition of the RWS is at the Bankside Gallery this month, and it provides a wonderful opportunity to view a wide spectrum of works that are sure to challenge your opinions on the medium.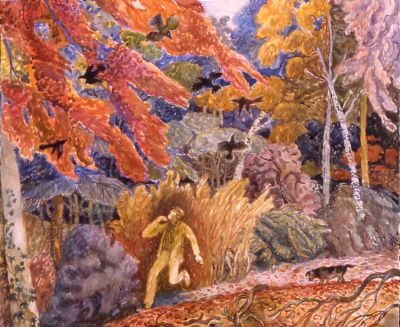 June Berry – Commotion in the Wood
I myself have never been a fan of watercolours, but the Society has won a convert with this exhibition. Bankside is a small gallery, but it is absolutely packed with work, and with the variety it offers viewers will be hard pressed not to find something that touches them.
The featured artist at this exhibit is Salliann Putman, whose work might be described as vaguely expressionistic, and all though I found her section less than inspiring, it was a minor loss at most for the excellent collection.


Sheila Findlay – Poppies in a White Jug
The works represent the very best of contemporary artists in the medium, and while some lean towards Impressionism, other pieces are surprisingly highly detailed and fall more on the side of Realism. The level of control displayed on the pieces in the latter class is especially impressive.
Hopefully we'll be seeing more of the work from the really outstanding artists featured in this exhibition. I highly recommend that viewers pay special attention to the works by June Berry and Michael Chaplin, two of the most fascinating artists displayed.
This is a selling exhibition, and framed works can be purchased for prices ranging from £200 to £5,000.
The Annual Exhibition of the Royal Watercolour Society is at Bankside Gallery until Sunday 3 April; admission free.