A cocoa farmer from Ghana was one of the speakers at the Lambeth Fairtrade Network's Fairtrade Fortnight reception at taste@church.co.uk opposite Lambeth North station.
taste@church.co.uk
, the fairtrade cafe at
Christ Church and Upton Chapel
in
Kennington Road
, hosted a celebration of fairtrade, with input from the Lambeth Fairtrade Network, the Co-Operative Group, Divine Chocolate and the Fairtrade Foundation.
The Lambeth Fairtrade Network comprises representatives of Lambeth Council, businesses, individuals and organisations including the Streatham Justice Group. The Network works to promote Fairtrade across Lambeth and helped to achieve Fairtrade borough status for Lambeth in April 2004. Camden, Kingston and Lewisham are London's other Fairtrade boroughs.
Barbara Crowther of the Fairtrade Foundation issued a warning to Southwark that it was now surrounded by fairtrade boroughs and it was "only a matter of time" before the council would have to adopt fairtrade status.
London will be able to call itself a Fairtrade City once at least 17 borough councils have taken on fairtrade status.


Anna Awere
Ghanaian cocoa farmer Anna Awere from the Kuapa Kokoo cooperative – which supplies the Butler's Wharf-based Day Chocolate Company, known for its Divine and Dubble brands – shared her practical experience of fairtrade. She said that without fairtrade " our lives would be very hard". "Our message to you this evening is 'buy more fairtrade'."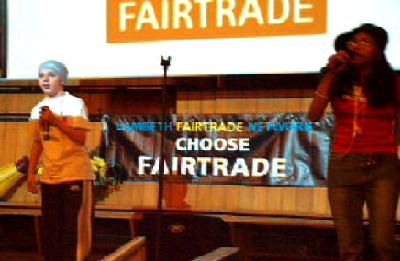 Harry and Sasha (Shudda and Ablaze)
Harry Jardine and Sasha Krishnan (aka Shudda and Ablaze), two 14-year-olds from Lambeth's Dunraven School were at the reception providing the youth perspective on Fairtrade with the award-winning Fairtrade Rap they wrote together.

Fairtrade outlets in Lambeth include the One World Shop at St John's Waterloo and Ganesha at Gabriel's Wharf.