If you have been staying away from the South Bank Centre because there is major work going on, don't. For behind the hoardings is a still-beating heart.
The former ballroom has been transformed by Moroccan designer Hassan Hajjaj into a riot of warmth and colour, using vibrant African cloths, decorative lamps and recycled furniture created from beer crates and cushions. This space is a response to the Hayward Gallery's Africa Remix exhibition and is to be used for many kinds of event, from dance workshops (Saturday 27 March), gospel choirs (Wednesday 30 March), with a finale of Kinetika Bloco featuring massed children from Southwark and Lambeth schools (Saturday 9 April).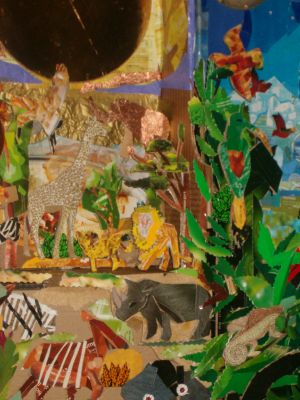 Work by pupils from Johanna School in Waterloo
In fact local schools have already participated.
London Nautical School
boys asked questions of the 'African creatives' who act as role models and Johanna Primary has explored African themes and using recycled materials has made a well observed Jungle landscape in a showcase display under the Hungerford Bridge, with the help of family Learning workshops.
Some events are already booked into the space, but the organisers hope that there will be many impromptu gatherings in the salon. There is a special welcome for community groups wishing to relocate their sessions into a space which will inspire and invigorate their activities. Check availability with Kath Boddy on 020 7921 0721.