Bowieart.com and County Hall Gallery have come together to present BLOC, a new exhibition that aims to give 16 emerging artists the chance to get a little public exposure.
Artists represented include Doug Fishbone, who created a stir with his recent stunt of bringing 30,000 bananas to Trafalgar Square. This time, he's once again displayed something he didn't create.
This time it's sand. Not just any sand, sand from the Holy Land, Israel itself. An artistic gesture this may be, but a work of art? I don't think so.
Despite some pieces equally ridiculous, and even a selection of drawings that seem like something out of Salvador Dali's nightmares, there are several truly extraordinary pieces in this collection.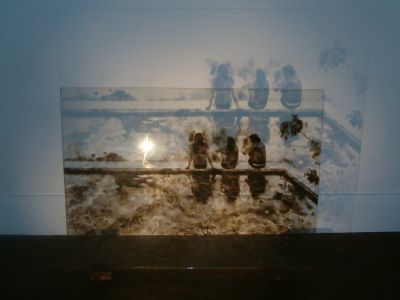 Perhaps the most creative, and certainly some of the most beautiful pieces on display were the works by Catherine Morland. She creates English landscapes by painting in smoke on glass, and then these images are projected onto the wall. The effect is elegant and intriguing.
The exhibition has some very worthwhile art, but it is also home to work that is something else entirely.
The BLOC exhibition is at the County Hall Gallery from 10 March through 22 May. Admission Free