Cyclists took over Tate Modern's turbine hall on Thursday lunchtime to launch the gallery's membership of the Southwark-based Bikes for Business initiative.
Tate joins
Better Bankside
,
Jerwood Space
,
Southwark Playhouse
and many other Southwark organisations as participants in this innovative scheme which offers a fully-funded pool bike scheme for a six-month trial period.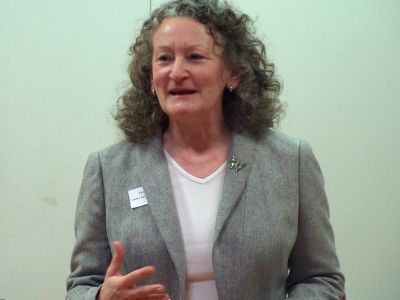 London Assembly member Jenny Jones
Participating businesses receive a full support package that includes bikes, cycle parking, helmets, reflective vests, locks and maps, insurance cover and regular bike services. After the six month trial the companies have the option of buying the bikes at cost, hiring them with maintenance support or returning them to the hire company. Tate will use the bikes to commute between
Tate Modern
, Tate Britain and the Tate store in
Mandela Way
.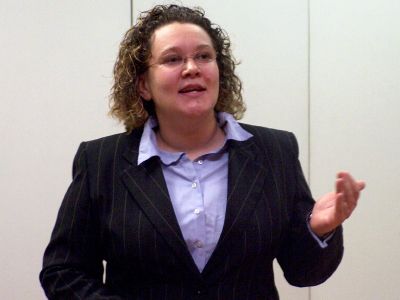 Cllr Catherine Bowman
The event was addressed by Southwark's deputy leader Cllr Catherine Bowman and Green Party London Assembly member Jenny Jones.
Bikes for Business is managed by Southwark Council in partnership with the Southwark-based environmental business consultancy SEA/Renue. The scheme has just received £23,000 from Transport for London to extend it to more businesses in the borough.

"Bikes for Business is a great scheme which is helping to persuade organisations in Southwark that cycling is a cheap, fast and healthy way to get around," said Cllr Richard, Thomas, a cyclist and executive member for environment and transport. "I am delighted that the Tate has come on board and that we have more funds to make the extend the scheme further."
Giles Semper of Better Bankside, which participates in the scheme, said: "It is great to know that the bike (unlike the bus) is just a few steps away and that it is fully serviced and therefore safe. No doubt the warmer weather will encourage even more of my colleagues to put it to use!"
The event was also attended by representatives of local groups including Southwark Cyclists.