Tony Blair came to Kennington Road on Tuesday to deliver a lecture on politics and faith. Three men were arrested after a scuffle in which a tomato was thrown at the PM.

The Prime Minister arriving at Church.co.uk
Three men were arrested and taken to the adjacent
Kennington Police Station
. One was given a Fixed Penalty Notice for disorderly conduct. The other two were cautioned for having an article [tomato] with intent to cause criminal damage.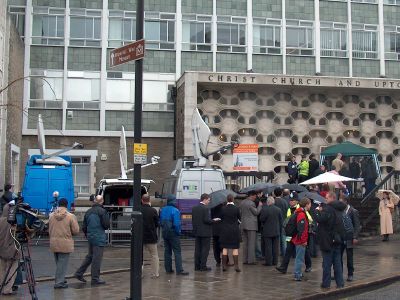 The queue snaked round into Westminster Bridge Road
The Prime Minister was delivering the latest in a series of
Faithworks
lectures at Church.co.uk, aka Christ Church and Upton Chapel, in
Kennington Road
.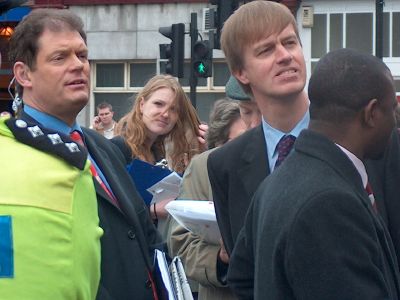 Treasury minister Stephen Timms (right) chats to Sky News political correspondent Jon Craig
Mr Blair praised the role of faith communities in national life: "I know that people talk a great deal about the decline of religion and the churches in our national life.  But in terms of social action and commitment, community by community, it is your revival and adaptation which are striking.  It is what has brought you here today.  I would like to see you play a bigger not a lesser role in the future.  I say this because of the visible, tangible difference you are making for the better in our society for so many people.  That is the proof of your faith in action in the service of others."

Police detain a protestor after a tomato was thrown
The PM added: "At the heart of my politics has always been the value of community, the belief that we are not merely individuals struggling in isolation from each other, but members of a community who depend on each other, who benefit from each other's help, who owe obligations to each other.  From that everything stems:  solidarity, social justice, equality, freedom.  We are what we are, in part, because of the other.  I apply that idea here in Britain.  I try to apply it abroad."

The tomato on the pavement
Charles Kennedy and Michael Howard have also delivered Faithworks lectures in recent weeks.

Tony Blair delivering his lecture