Have you walked down Hatfields recently and NOT noticed the park? It is easy to miss - a patch of muddy grass with a few scattered trees, bounded by the new sports pitches at one end and the allotments at the other.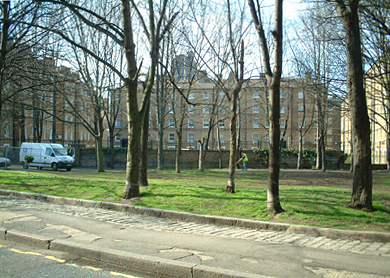 Hatfields Open Space">
But change is coming! The
Hatfields
Steering Group has got funding from the
London Nautical School
and Waterloo Community Regeneration Trust to help turn this grassy nothing into a lovely local park.
At the next Steering Group meeting, which is open to everyone, the designers, Farrer Huxley, will unveil their first proposals for the park. The meeting is on Wednesday 2d March 6-7pm at the Practical Law Co, 19 Hatfields. Everyone is welcome to come and give their views on the future of the park.
These initial designs are based on ideas and criticisms given at recent Steering Group meetings. Anyone can attend and for the success of this project in the long term it is essential to have as much local support as possible.
Farrer Huxley believe that Hatfields Green Space should encourage people off the street into an oasis of green & calm. There is room for a lawn surrounded by trees and shrubs near the ball courts, where people can sit and enjoy nature. Behind the Ball Courts might be a 'woodland' trail into a quieter area of the park. And in the south end, it has been suggested, a paved area with benches and tables under the trees would give local office workers a place to have lunch.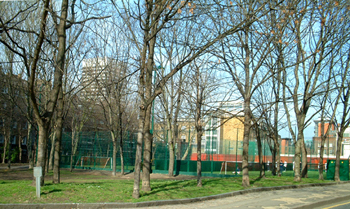 Hatfields Open Space">
Most of the trees will be kept, but those being removed to bring in more light, will be replaced with interesting native species and shrubs. There might be a woodland trail for children, with areas for play. Safety has been a concern and the design will include subtle lighting at night, balancing the need for good lighting at ground level with sensitivity to light pollution.
And finally, there are several exciting ideas that will need extra support to get funding – what do you think about a fountain or water feature? What about a piece of sculpture by someone local or about the area? Would you or your children be interested in information about the plants & trees?
To keep you informed a public notice board will be installed in the park in the next couple of months. Everyone is welcome to any of the Steering Groups and can join the mailing list by calling or emailing Kath Rosen of the Waterloo Green Trust on: 020 7633 9291 or kathwcdg@btconnect.com">kathwcdg@btconnect.com