Authentic French artisan bread is now on sale daily on the South Bank.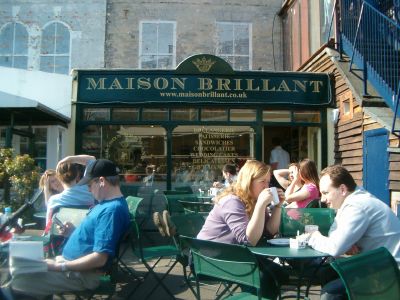 Maison Brillant, a French bakery upstream in Henley-on-Thames, has opened a bakery and patisserie shop at riverside
Gabriel's Wharf
.
The large range of breads available include Mannedor, a white rustic bread (£2), which is popular toasted and lasts for three days. Six Cereales bread (£2.50) also has a three day life and is recommended for enjoying with game, salads and cheese. For strong cheeses there is Le Pave (£2). Many of the loaves are suitable for freeezing.
Special breads include olive and tomato (£2.50). All the bread and cakes arrive at dawn ready for early customers. Baguette, pain au chocolat and coffee breakfast is served at the outside tables.

Double cappucino is £1.95 and already proving popular at lunchtimes are the ciabatta sandwiches, croque monsieur and tartes (£2.50 each).
The Maison Brillant French Artisan bakery was founded just two years ago by Philippe Brillant who started work at the age of 15 under a master chef who recommended him for training at Lasserre in Paris.
Philippe Brillant was sous chef at Chewton Glen in the New Forest before becoming Executive Chef to the Saudi Royal Family serving HRH Prince Khalid Abdullah. In 1995 M Brillant founded The French Hamper Company and the hampers can also be purchased at his Gabriel's Wharf shop.
• Maison Brillant, Gabriel's Warf, Upper Ground (020 7928 8158); open daily 8am-6pm.