Val Jarvis, St George's Cathedral Parish Secretary for 19 years, has been granted the Freedom of the City of London.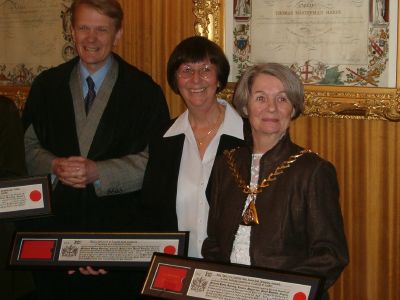 Val Jarvis (centre) and Mayor of Southwark Anne Yates
Among those watching the ceremony in the Chamberlain's Court at the Guildhall was Dean of St George's James Cronin.
Also present was the Mayor of Southwark Anne Yates who was among eleven people from Southwark receiving the freedom.
The last day at work for Val Jarvis was Friday 1 April and just one day before the Pope's death. She was present at the 12.30 Mass to say goodbye but returned a few days later to assist with preparations for the Vespers of the Dead in honour of the pope who was the cathedral's most famous visitor.