Caffe Nero has opened in The Cut in the premises formerly occupied by Supercut Minimarket which closed a month ago.
When the coffee shop opened at 8am on Saturday there were three customers and by mid-morning a steady trickle of passers-by. Two staff from
The Windmill
opposite dropped in to meet the new neighbours.
A cappuccino comes in three sizes (£1.45, £1.90 and £2.20). New bread introduced this month is the basis of a panini range. Also available is roasted tomato soup (£2.40) which can also be purchased for heating at home (£2.20).
In the continental tradition there are the Telegraph and Mail newspapers in a rack.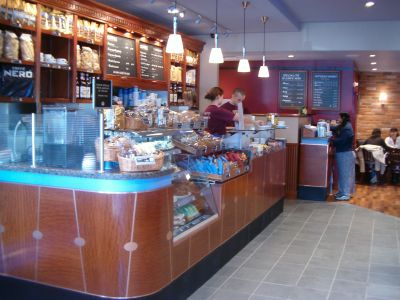 The Caffè Nero group, founded in 1997, is the largest independent coffee retailer in the UK with over 205 addresses including one at More London in
Tooley Street
. The aim is to provide a European style coffee house experience offering premium espresso-based gourmet coffee and authentic Italian food products in a relaxing atmosphere.
TheTatler magazine described the coffee as "the best espresso this side of Milan and Egon Ronay has called Caffè Nero "the traditional Italian Cafè".
Caffè Nero in The Cut is open 7am-7pm weekdays and 9am-6pm weekends.