The Social Enterprise Coalition has launched its manifesto for social enterprise at the Oxo Tower.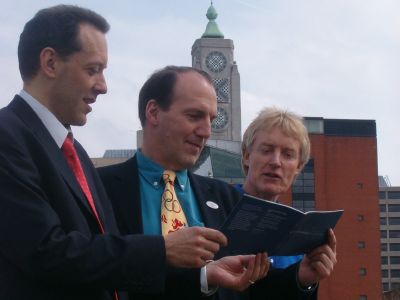 Jonathan Bland, Simon Hughes and Iain Tuckett
Aimed at all parties in the run-up to the General Election, the manifesto contains a series of challenges for the next Government. Oxo Wharf was chosen to highlight the success of the
Coin Street
Builders development trust and social enterprise.
"Social enterprises are making a real difference in every part of the country" said chief executive Jonathan Bland. "In this election year the Social Enterprise Coalition calls on all political parties to support this powerful business model so that more and more people and communities can reap the social, environmental and economic benefits."
Liberal Democrat president Simon Hughes, speaking during the visit, said: "Social enterprises are shown to work and Liberal Democrats have in many places up and down Britain used them and worked with them and encouraged them from the vantage of being in charge of local authorities. That needs to be supported and replicated nationally and we have long taken the view that Governments job is to support, to encourage and to underpin social enterprise."
Earlier Conservative shadow cabinet member Dr Liam Fox and Trade & Industry Secretary Patricia Hewitt MP had attended launches outside the capital.