Camera crews and photographers braved the cold and rain outside St Thomas' Hospital on Tuesday to catch the first glimpse of Donald James Kennedy, son of Lib Dem leader Charles Kennedy and his wife Sarah.
Donald James Kennedy, the couple's first child, was born at 12.14am on Tuesday on a 7th floor maternity ward at St Thomas'. The baby weighed 6lb 9oz.
The couple, who live in Kennington, emerged from the hospital just after 5pm and posed for the cameras.
Mr Kennedy said: "Sarah and myself are immensely grateful to all the clinicians, the midwives and all the staff who over these past nine months – but particularly over these last 30 momentous hours – have been so kind, so professional and so fantastically supportive. Really, from the bottom of our hearts, our thanks to them all.
"Secondly, can we say to all the family and friends who have been pouring in messages of support and goodwill, both here, at home in Scotland and across the river Thames here at national party headquarters at Cowley Street: we are immensely grateful for all the gifts, the kindnesses and expressions of goodwill – that really has been marvellous for us both.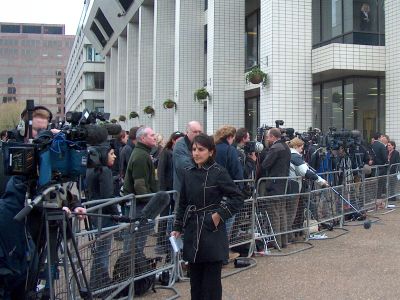 The assembled press pack outside the hospital
"Thirdly, everything went tremendously smoothly, we are very grateful and fortunate about that, and we are exceptionally happy with this new Donald James Kennedy who becomes the latest addition to the clan – I think he's our pride and joy, it's fair to say."
The Kennedys were accompanied on their walkabout by community midwives Anna Byron and Melanie Denton.
Other visitors to St Thomas' were bemused by all the fuss. "Charles who?" was a frequently heard question. Julie Didd from Battersea, whose granddaughter Bethany Jane was born on the same ward on Tuesday afternoon, didn't think that the extra publicity for the Kennedys was likely to boost the Lib Dems' electoral chances. Mrs Didd said she would be voting Labour.
Between 1995 and 1998 Sarah Gurling was a councillor in Southwark and sat on the education and leisure committee. She is head of government relations for National Lottery operator Camelot plc.
• Updated: Meanwhile there was bad news for Guy's and St Thomas' NHS Foundation Trust which was once again confirmed as the London hospital trust with the most cases of MRSA over an 18 month period, with 223. It blames the high incidence on its difficult central London caseload: the sicker the patient, the more likely they will succumb to the bug. The trust also topped the national MRSA table last year. Guy's and St Thomas' have issued a briefing giving details of measures they are taking to tackle the problem. A hospital spokesman says that the trust has seen a significant reduction in infection rates between the periods April to September 2003 and April to September 2004: "Our most recent figures indicate that we will see a further significant reduction between September 2004 and the end of March this year."