A suit belonging to the last Pearly King of Bankside has been donated to Southwark's Cuming Museum this week.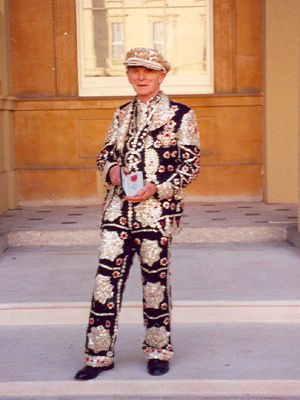 Tommy Johnson, last Pearly King of Bankside, receives his MBE
The suit, which has kindly been donated by the owner's daughter, belonged to Southwark resident Tommy Johnson MBE who died in 2002. The present-day Pearly King of Bow Bells officially handed over the suit at the ceremony on Wednesday, accompanied by members of Tommy's family.
Tommy, whose parents were also 'Pearlies', was born within earshot of Bow Bells, and became Pearly King of Bankside at the tender age of 14. As Pearly King, Tommy carried out a variety of charity work and was awarded an MBE in June 1998 for his tireless work. The title of Pearly King of Bankside has since died out.
Stephen Douglass, Head of Museums at Southwark Council, said: "We'd like to thank Tommy's family for their kind donation, as the suit will be a real asset to the Cuming Museum's collection and presents a wonderful opportunity to tell the story of Southwark's Pearly Kings and Queens for the future.
"Their donation is particularly good timing as it comes at the start of National Museums and Galleries Month, which celebrates museums around the UK. We're extremely lucky that Southwark has a whole range of interesting museums and historical sites that are free to visit."