There were no election surprises in the two constituencies which cover SE1: Simon Hughes (Lib Dem) is back in North Southwark and Bermondsey, and Labour's Kate Hoey is back in Vauxhall.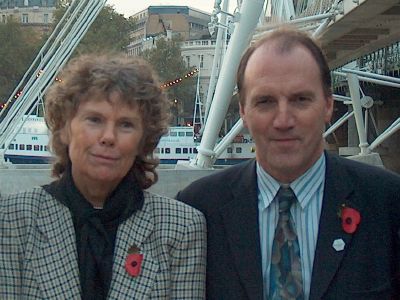 Shoulder to shoulder: Kate Hoey and Simon Hughes together on the South Bank last November
The pair will continue to work together on issues that affect the wider south bank area and the Southwark/Lambeth border. Before the election Simon Hughes revealed that neither incumbent would be actively campaigning for their party colleagues in the other's constituency.
In North Southwark and Bermondsey Simon Hughes was back, albeit with a sharply reduced majority (down from 9,632 to 5,406). Turnout fell very slightly from 50.1 per cent in 2001 to 49.2 per cent this time rount. The count and declaration for the Southwark seats was held at the Peckham Academy.
Labour candidate Kirsty McNeill was delighted that she had "made history" by achieving the largest swing to Labour in the country: "We made it crystal clear that Labour is back in Bermondsey," she told local activists.
Meanwhile Simon Hughes has attributed his reduced majority to the Lib Dems' new status as the 'establishment' in Southwark – he points out that this was the first general election he has fought whilst the council has been controlled by his own party.
Kate Hoey has been returned as MP for Vauxhall. Her 13,018 majority in 2001 was reduced to 9,977. Turnout in Vauxhall was 46.9 per cent, up slightly from 44.8 per cent in 2001. The result was declared at the count at the newly rebuilt Lillian Baylis School.
Former sports minister Kate Hoey, a leading critic of Tony Blair, has joined other Labour backbenchers in calling on the prime minister to stand down at the earliest opportunity.