The Duke of Kent and the defence secretary Dr John Reid have led Southwark's VE Day anniversary ceremony at the Soviet War Memorial in Geraldine Mary Harmsworth Park.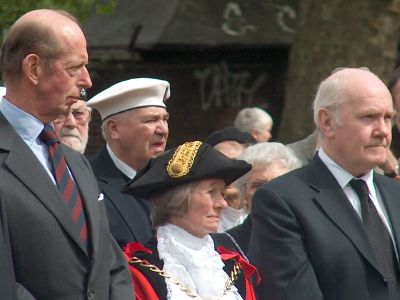 The Duke of Kent, the Mayor of Southwark and the Secretary of State for Defence
The Duke of Kent, president of the Commonwealth War Graves Commission, laid the first wreath at the memorial. The master of ceremonies was the familiar figure of Southwark's town crier Peter Moore.

The ceremony took place at the Soviet War Memorial next to the Imperial War Museum
The gathering was addressed by Philip Matthews, chairman of the Soviet Memorial Trust Fund, the Mayor of Southwark Cllr Anne Yates, newly appointed defence secretary John Reid, Andrei Churpin, chargé d'affaires at the Russian Embassy and Cyril Herbert of the Southwark branch of the
Royal British Legion
.

The Duke chat with veterans after the ceremony
Dr Reid praised "the peoples of the former Soviet Union because of the sacrifices they made and the heroic efforts they made in the defeat of Nazism and the poison of Fascism that so blighted Europe".

Dr Reid with a group of war veterans
Mr Reid added: "Twenty-seven million dead – it's unimaginable. It's therefore with a deep humility and respect that I am here on a day when, whatever our differences, we remember that period, that epoch, that struggle which brought us together in the highest of all human attainments – the preparedness of people to lay down their lives for others when they believe in a cause that is worthy and just."

Dr Reid with Leningrad siege survivor Kira Ivanova
Wreaths and flowers were laid at the memorial by representatives of the embassies of former Soviet republics including Belarus, Georgia, Kazakhstan, Kyrgyzstan, Turkmenistan, Ukraine, Uzbekistan and the Russian Federation, as well as a number of veterans' associations, Anglo-Russian groups and representatives of the Labour movement. A number of individuals also laid wreaths

Dozens of floral tributes were laid at the foot of the memorial
The Last Post was sounded by a member of the Alberti Brass Band to mark the start of a two minute silence.