It's Saturday afternoon and bitterly cold. The frigid wind stings my face. It's not a day to be out. I can only think of abandoning my assignment and going indoors for a warm drink but I persevere and arrive by the river near Tate Modern.
I'm here to observe and take part in the launch of
Southwark Playhouse
's River Thames Exploration and Heritage Project in conjunction with
Thames 21
and
Thames Explorer Trust
.
The community based project will engage locals and school children from 14 Southwark Schools in understanding and exploring the ever changing riverscape and try to reconnect Londoners to this most precious asset. The project idea stems from the play
Charlie Lavender
who was a mudlark or apprentice dreger boy living in Victorian times. This former Bankside boy earned his living from gathering items washed up by the river Thames. Today we were going to do a modern version.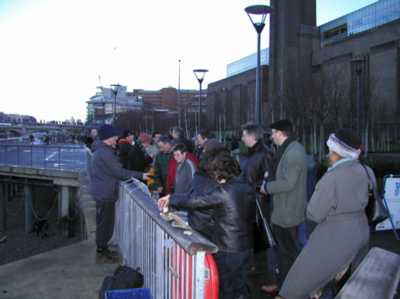 As we struggled to set up tables and organise literature for passers by in the biting cold, hailstones attacked us but we gallantly continued in the hostile conditions. Eventually some passers by were persuaded to don some wellies and do a spot of "mudlarking". Mayor of Southwark Hilary Wines dropped by and joined in searching for items of historic interest and clearing rubbish from the river bank.
A leather shoe from the 18th or 19th century and bits of pottery that had been in a furnace (clear evidence of industry) were found on the day. Previous finds include bits of Delft pottery, a medieval clay tile (possibly from Southwark Cathedral), Roman, Tudor and objects from the 1950s.
The guys from the Environment Agency looking smart in their SAS frog-man's outfits and motor dingy found water shrimps and blood worms as well as flounder and roach. With a clear emphasis on environmental and archaeological activities the project will show children the rich heritage of this busy thoroughfare. In a grand final all their work and research will be collected and housed at the new Museum in Docklands opening in September.
With a clear ecological focus the organisers are working for the greater good of the Thames. Despite the blizzard like conditions of rain, hail and some snow the sun did eventually make an appearance and over the wobbly bridge a rainbow appeared.
More information: Kath Serkis on 020 765 2224