Friends and family of cyclist Vicki McCreery gathered on Blackfriars Bridge on Tuesday afternoon to mark the first anniversary of her death in a collision with a bus in the controversial cycle lane.

Flowers adorn a post close to the site of the collision
In February a judge said that controversial road markings were a "contributory factor" in the death of Vicki McCreery as he jailed bus driver Michael Duncan for a year.
Judge Simon Davies said that 22-year-old Duncan, driver of the route 100 single-deck bus, was guilty of a "momentary lapse" of concentration. St Thomas' Hospital physiotherapist Vicki McCreery, 37, who had earlier expressed her concerns about the road layout to friends, was on her way home from work when the crowded five ton single-decker collided with her bicycle.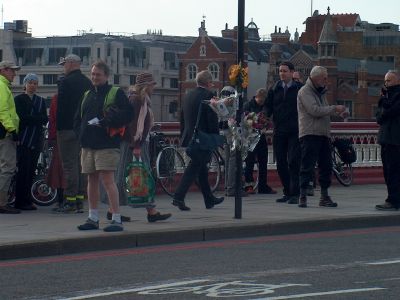 Friends and members of City Cyclists hand out flyers to passing cyclists
Transport for London is currently pressing ahead with plans for a new cycle scheme on the bridge, which involves marking out a cycle lane on the pavement on the western side of the bridge. City Cyclists, the London Cycling Campaign's local group for the City of London, has described the TfL proposal as "extremely poor", pointing out that the proposals will "create unnecessary conflict between cyclists and pedestrians".
The TfL proposals can be seen in a PDF available on the City Cyclists website.
• Last month a motor-scooter rider who was involved in a fatal collision with a pedal cyclist on the bridge in February 2003 was jailed for 7 months for failing to stop at the scene and not reporting the collision.