City Hall this week hosted a special presentation of James Still&#39;s play <i>And then they came for me - remembering the world of Anne Frank</i>, followed by a panel discussion with Holocaust survivors.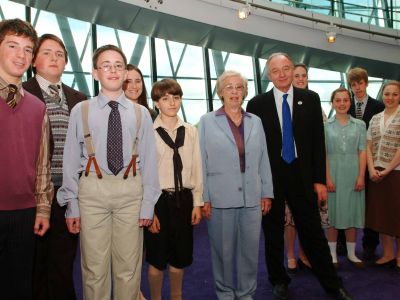 City Hall">
Mayor Ken Livingstone with performers and and Eva Schloss (Photo: James O Jenkins)
The play was performed by a young drama group specially flown in from Jersey by the Blue Sky Club with the support of the Jersey War Tunnels and Community Trust.
An afternoon performance was shown to London school children including pupils from from Charles Edward Brooke School in Lambeth and St Michael's RC School in Southwark. The evening performance was given in front of an audience of some of London's most influential people.
Mayor of London Ken Livingstone said: "And then they came for me – remembering the world of Anne Frank is an opportunity to remember those who died and the countless others whose lives were changed forever during a shameful chapter in modern history. This poignant theatrical production is a powerful reminder of what can happen when a society tolerates or legitimises anti-semitism, or any other form of racism. As we approach the 60th anniversary of the end of the Second World War, this and similar work has an important role to play in ensuring that the Holocaust is never forgotten nor repeated."
Auschwitz survivor Eva Schloss added: "Unfortunately many young people do not know very much about what happened in the last century, how hatred and prejudice prevailed and prevented people from resisting evil. Through knowledge of what happened then, we are trying to prevent a repetition of such horrors"
The Blue Sky Club, which produced the City Hall performances, plans to take the play to colleges, prisons and parliaments across Europe, USA as well as the Israeli and Palestinian parliaments. A spokesman said: "Our aim is to show what can happen when we walk on by and do nothing when we see irrational hatred towards our fellow citizens. If the play's message can save just one hate fuelled death then every effort to make this come to pass will have been worthwhile."