The Floral Hall portico building was one of the major winners in the prestigious Green Apple Awards for the built environment and architectural heritage held last week.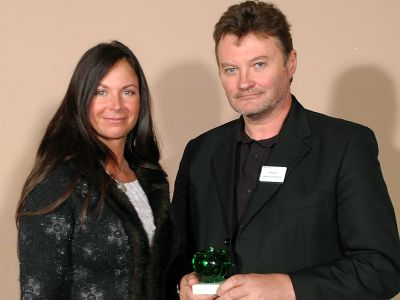 Carole Caplin and Ken Greig
Awarded gold in its own category,
Greig + Stephenson
Architects (GSA) also won a "best of the best" style award, the coveted National Heritage Champion Award.
Park Street-based GSA beat over 300 other entrants to the awards, which celebrate projects that preserve our architectural heritage. Presented by Carole Caplin at Kensington Roof Gardens, only four projects earned the prestigious title of National Heritage Champion. This year's awards will be formally presented at the Houses of Parliament in November 2005.
Ken Greig, director of GSA said: "We have been working with Borough Market for ten years and this is a great reward. It has been a long road – a truly one-off experience – and indeed, a privilege to work with one of London's landmarks."
The new building, designed by GSA for the Trustees of the Borough Market, incorporates the cast iron portico from Edward Middleton Barry's Floral Hall at Covent Garden. It provides market trading spaces at ground level and a 120 cover restaurant on the first floor which looks down over the market. The new restaurant, Roast, will open later in the year.
The redundant pieces of the Floral Hall portico were bought by the Trustees of the Borough Market, allowing them to be saved, restored and re-used as part of a new building. Some new castings, inspired by the lost original pitched-roof entrance porches to Borough Market, complete the front section of the building.
The architects say that although the rear portion is modern in style, the new building as a whole celebrates both the continuity of the market role of the area, and the return of a heritage structure to an appropriate market environment.
The Green Apple Awards Scheme, promoted by The Green Organisation with the support of the Environment Agency, is in its fifth year. As a result of the award, the Floral Hall portico building will also be featured in the National Treasures Guide Book 2005.