The Knowledge and Information Centre at St Thomas' Hospital celebrated its first anniversary this week with the unveiling of the world's first glass wall featuring poems that light up using electroluminescent (EL) technology.
The poems were composed by renowned poet, Valerie Laws, famous for her 'Quantum Sheep' project where she sprayed the words of haiku, a form of traditional Japanese poetry, onto the fleece of live sheep. The interactive panels for Window of Art were created by Elumin8 and designed by Ginco.
Art and design have a powerful effect on how we feel and can help patients through recovery and rehabilitation. Poet Valerie Laws explains: "The benefits of art in health are well documented and recently highlighted in the King's Fund initiative 'Enhancing the Healing Environment'. With Window of Art we have created a unique installation that will enthral patients and staff alike. We hope that even in the saddest of times, Window of Art will help raise the spirits of patients who are feeling unwell or dealing with sad news."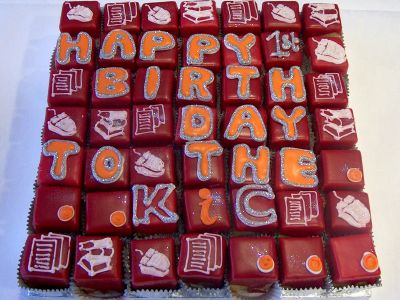 With over 350 visits a day, the
Knowledge & Information Centre
replaced the former hospital library. Liz Fairclough, KIC manager, said: "The KIC is a comprehensive resource centre where patients, staff and visitors can access good quality health information. The centre offers access to a wide range of health related books and leaflets, as well as drop-in clinics, details of support groups, internet access and much more. We must thank Guy's and St Thomas' Charity for making Window of Art possible and funding the creation of the KIC in 2004."