The man who transformed the fortunes of the Elephant and Castle Shopping Centre by painting its exterior a shocking pink has proposed relocating the London Eye to Greenwich.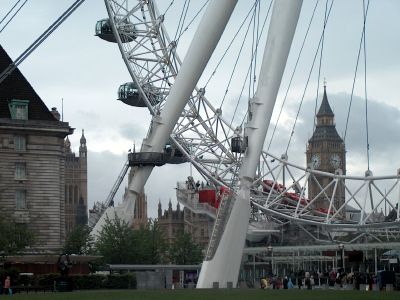 It is the wheel's supports which stand on Jubilee Gardens which are at the centre of the rent dispute with the South Bank Centre
Developer Eric Reynolds has taken advantage of the
current row
threatening the future of the South Bank observation wheel by suggesting that the
London Eye
be relocated to a site in front of the former Royal Naval College in Greenwich.
The relocated wheel would offer views of the Cutty Sark, the Royal Observatory and the Isle of Dogs.
"Greenwich is already a world heritage site and a marvellous place to come – and about 4 million people a year come here – but if we could have the Eye as well ... fantastic!" Mr Reynolds told ITV1's London Tonight on Saturday.
Mr Reynolds' company Urban Space Management was hired by the Elephant and Castle Shopping Centre's owners in the early 1990s to give the centre a new lease of life. He ordered the infamous pink colour scheme and set up the market which operates around the centre.
The company was also involved in the setting up of the riverside market at Gabriel's Wharf.
Perhaps more pertinent to this proposal, Greenwich Market is also operated by Urban Space Management.