A newly refurbished cancer treatment facility with the latest equipment has been opened by Jeremy Milnes, presenter of the City Hospital docusoap, at Guy's Hospital.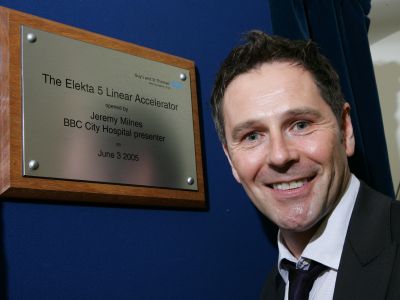 At the heart of the facility is the new £1 million Elekta 5 linear accelerator, which is used by therapy radiographers to administer radiation treatment to patients with cancer. The new machine, funded by the Department of Health, joins four others based at St Thomas' Hospital. All five linear accelerators are linked by a common computer system so that patients can be treated on any machine within the Trust, depending on their individual circumstances.
The newly refurbished facility includes a new waiting room for patients with dedicated patient changing cubicles, new décor and lighting, providing a welcoming and bright atmosphere and a piece of illuminated ceiling art, featuring a photographic image of calming palm trees situated above the linear accelerator machine to help distract and relax patients during their treatment.


Jeremy Milnes celebrates the opening with radiographers from Guy's and St Thomas'
"I am delighted to have been asked to open this new facility," said Jeremy Milnes. "I have met many patients and their relatives while filming the recent series of
City Hospital
and I have been constantly amazed by people's bravery. The new machine here at Guy's will make a real difference to the lives of people being treated for cancer at the trust."
Dr Sarah Harris, consultant clinical oncologist and Head of Service for Clinical Oncology at the Trust, added: "How patients feel when they are being treated for cancer is crucial to their general well-being and the likely outcome of their treatment. This refurbishment means we can not only provide the very best treatment in a pleasant and calming atmosphere, but can also reduce the time patients need to wait to receive radiotherapy. The new equipment continues the development of a state-of-the-art treatment centre at Guy's and St Thomas'."
Guy's and St Thomas' provides all radiotherapy services for patients with cancer in the South East London Cancer Network – an area of 1.7 million residents in the boroughs of Lambeth, Southwark, Lewisham, Bexley, Bromley and Greenwich.