Southwark Council's transformation of the way it deals with public enquiries got underway last week with the opening of the first One Stop Shop in Bermondsey and a call centre at London Bridge.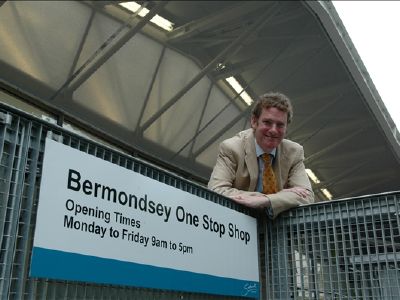 Council leader Nick Stanton at the Bermondsey One Stop Shop
The Bermondsey One Stop Shop opened to the public on Tuesday 31 May and over time will provide an increasingly wide range of council services under one roof. At the same time a new contact centre opened at London Bridge, which will handle most customer calls to the council by 2006.
Council bosses claim that together they mark the beginning of "a big effort to improve customer services for Southwark residents". The contact centre deals with calls, faxes and emails, where trained customer service officers will process job requests, provide updates on progress and assist with enquiries in relation to council services.
Meanwhile, customers choosing to visit the Bermondsey One Stop Shop at 17 Spa Road will have the choice of accessing self-service online facilities or receiving help from customer service officers. There is also an interpretation service.
Two more one stop shops will be developed next year in Walworth and Peckham.
Southwark's modernisation programme, in partnership with Pearson Government Solutions, aims to ensure that eventually residents will no longer have to go to different offices to pay their rent, council tax, or parking bill or to arrange housing repairs or care at home.
Cllr Nick Stanton, the leader of Southwark Council, said: "This is an important first step on the road to transforming the way we deal with our customers.
"Bringing access to council services together in one place will reduce the need for residents to provide the same information time and again to different departments. It will also free up staff time that can be better spent on delivering good quality services instead of handling paperwork.
"It will take some time for all the services to be incorporated but eventually we will have one of the most modern and efficient customer services of any local authority."