Broadcaster Jonathan Dimbleby opened a refurbished £3.6 million state-of-the-art imaging centre - which helps in diagnosing and treating cancer - at St Thomas' Hospital last week.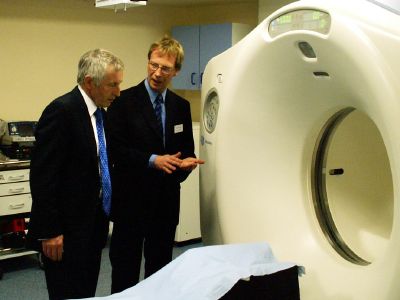 Jonathan Dimbleby touring the refurbished centre
At the heart of the centre are two brand new £1.3 million PET/CT scanning machines. PET, which stands for positron emission tomography, is a highly sensitive imaging technique which, when combined with the more common CT (computerised tomography) scan provides some of the world's most accurate and detailed images of a patient's body. This helps doctors decide on the most appropriate treatment for a patient and to monitor progress.
Although most commonly used for patients with cancer, PET/CT images are also used in the diagnosis of cardiac and neurological conditions. Demand for the service is high, with patients coming from across the country to use the facility. In its 14-year history, staff at the centre have carried out over 23,000 scans.
Jonathan Dimbleby, whose father Richard Dimbleby was treated for cancer at St Thomas', toured the centre and met staff and patients, who fielded a wide range of questions from the presenter, known for chairing Radio 4's Any Questions? and grilling politicians on his Sunday lunchtime ITV programme.
"Being diagnosed with cancer is a devastating and frightening experience for anyone and it is vital that we are able to continue to learn more about this disease and how it can be treated through increasingly advanced facilities," commented Jonathan Dimbleby. "My family has had a long association with the cancer research programme at St Thomas' Hospital following the death of my father from this disease and I am delighted to have been asked to re-open this centre."
Other benefits of the refurbished centre include increased capacity – allowing over 3,000 patients a year to be scanned – as well as reduced waiting times for scans.