Cyclists from Southwark and beyond were undeterred by the pouring rain and converged on Shakespeare's Globe on Wednesday morning for the annual Bike Week breakfast gathering.
Mechanics from
Tooley Street
's
On Your Bike
cycle shop were on hand to provide maintenance tips, and a limited edition
Southwark Cyclists
T-shirt
designed by Turner Prize-winner Jeremy Deller
was on sale.
Fuelled by bacon rolls and coffee, the cyclists and their bikes then moved into the theatre itself, to be welcomed by the Globe's company manager Sid Charlton, himself a keen cyclist and tricycle enthusiast. Cllr Richard Thomas, Southwark's executive member for environment and transport, also addressed the crowd.
Simon Hughes
MP described the Globe as "one of the jewels of my constituency". He used his speech to encourage the assembled cyclists to campaign to promote cycling amongst the young, citing the need to "change the culture of transport to school" to eliminate the car-based 'school run'.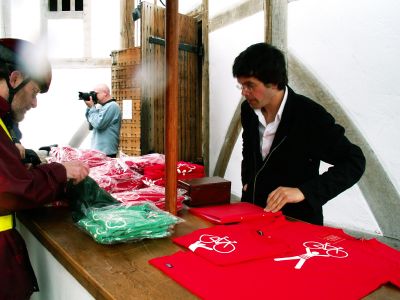 He also urged campaigners to lobby to ensure that new developments in Southwark include bike-friendly provisions.

Southwark and Lambeth's London Assembly member Val Shawcross arrived at the Globe riding a GLA pool bike
• The
Bike Week
breakfast is just part of a packed programme of rides and events organised by the local groups of the
Great Guildford Street
-based London Cycling Campaign. Full details can be found on the websites of
Southwark Cyclists
and
Lambeth Cyclists
.
• As part of Bike Week, Southwark Tourist Information Centre is offering a free bike ride on Sunday 19 June. The two-hour tour is open to anyone who can ride a bike. Local poet and
guide John Constable will lead the ride, which will take in a medieval graveyard as well as local
attractions associated with famous local residents, including Chaucer, Shakespeare, Dickens and Chaplin. You don't even need to own a bike in order to take part, as The London Bicycle Tour Company at Gabriel's Wharf is offering a special hire rate of just £5 for participants. For more details on bike hire contact Robert at the London Bicycle Tour Company on 020 7928 6838;
mail@londonbicycle.com">mail@londonbicycle.com Participants may turn up at 3pm on the day with a bike, but to ensure a place it is advisable to book in advance. For more information or to reserve a place contact Eleanor Marriott on 020 7403 7340 or eleanor.marriott@southwark.gov.uk?subject=I read about the cycle ride on the London SE1 website">eleanor.marriott@southwark.gov.uk The ride will be supervised by professional cyclists but participants take part at their own risk.