Osagyefo Oseadeeyo Agyemang Badu II, the Paramount Chief of the Dormaa Area in Ghana this week paid a visit to the Gainsford Street offices of leading Fairtrade chocolate business The Day Chocolate Company.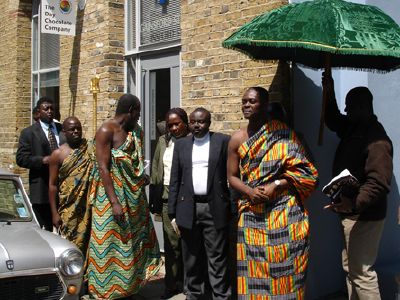 He and representatives from the Dormaa Traditional Council were interested to hear more about Divine and Dubble, the Fairtrade chocolate brands made with cocoa grown in his region by Kuapa Kokoo cooperative farmers. The Chief and his men arrived in full traditional costume and were greeted by Day Chocolate's Managing Director Sophi Tranchell, and Nana Appiah Kubi, President of Kuapa Kokoo, and invited to hear the story of how a Ghanaian cocoa farmers' cooperative came to own a UK chocolate company – and the benefits that has brought them.
"The Paramount Chief of Dormaa Area had heard about Day Chocolate from the Kuapa farmers who grow cocoa in his region, and as he was in London, he asked to visit our offices," says Ms Trancell. "We were delighted to welcome him and his colleagues, and fortuitously senior members of Kuapa Kokoo were also here to greet him, as they had just attended our Board meeting. The tribal Chiefs in Ghana hold an important position, and it is often their land that is 'on loan' to the smallscale cocoa farmers who grow our Fairtrade cocoa."
The Chief was invited to try Divine and Dubble chocolate, and was impressed and pleased to hear about what Day Chocolate had achieved. He said that he would advise farmers in his area to join Kuapa and sell their cocoa to Kuapa.
Dormaa is an area in the far reaches of the Western Region and a big cocoa growing area. In addition to Nana Appiah Kubi (President of Kuapa Kokoo), Madam Comfort Kwaasibea (NEC member) and Mr Boadi (Operations manager) were also in London at the time and present to greet the Chief.
The Kuapa Kokoo cocoa farmers' cooperative has over 45000 members from 1200 villages throughout central Ghana. The cooperative produces 1% of the world's cocoa and 4% of that is sold to the Fairtrade market. In 1997 Kuapa Kokoo members voted to establish a chocolate company in the UK. The Day Chocolate Company was set up in 1998 to deliver a delicious Fairtrade chocolate in the mainstream market, and Kuapa Kokoo owns a third of the shares.