Though intended to be larger than life and visually impacting, this movie could be enjoyed in either IMAX or regular form. If you are frequently visited by motion sickness then this IMAX movie version is not for you.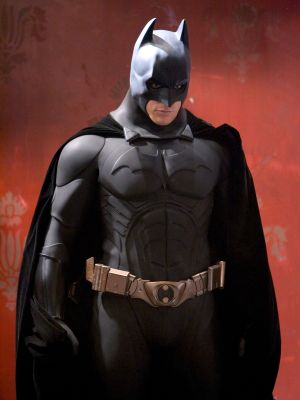 However, scanned landscapes and flight scenes through the city with thousands of bats are quite impressive in this exceptional digitally re-mastered version.
Batman Begins, directed by Christopher Nolan (Momento) and produced by Emma Thomas, Charles Roven and Larry Franco, has a stellar cast comprised of Christian Bale, Morgan Freeman, Michael Caine, Liam Neeson, and Katie Holmes, to name a few. This film begins with the legendary Bruce Wayne (Bale), travelling the world, learning ways to fight cruelty and injustice. By struggling with his own emotional fears and turmoil, originating from the murder of his parents, he unleashes the inner hero we know as Batman. His main goal becomes to fight for Gotham City and protect its innocent citizens that are so easily preyed on by evil.
This film answers questions about his cave, disguise, gadgets, and even the reason for his choice of identity, the bat. Whether you've seen the other Batman films or not this movie is a must for its special effects, fantastic cast, and exciting story line.