Borough Market last week announced a collaboration with the La Boqueria market in Barcelona as it hosted a conference aiming to influence the national agenda on the way we grow, buy, sell and eat food.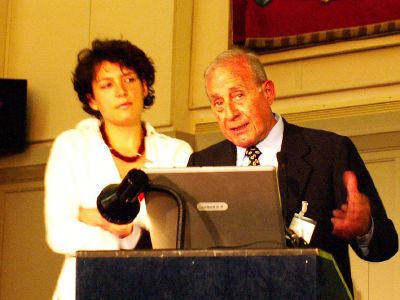 Manuel Ripoll from La Boqueria announces the twinning, with translation by recent UK Masterchef winner Thomasina Miers
"The first event of its kind in the UK" is how George Nicholson, chairman of
Borough Market
described the conference – "Making Markets : Creating Places" – staged at
Glaziers Hall
on Friday.
Manuel Ripoll, president of La Boqueria, announced the twinning agreement at the conference. The two markets will apply for funding, hoping to tap in to EU support for town twinning. They want to share best practice and mount exchange visits in which stallholders from the Catalan market would offer Spanish delicacies in Southwark and vice-versa.
La Boqueria, as the Mercat Sant Josep is generally known, is a colourful covered market which operates 6 days a week just off Las Ramblas in the heart of Barcelona. The current structure dates from 1914, but the market's history stretches back to the 13th century.
Speakers at Friday's conference included the Minister for Sustainable Farming & Food, Lord Bach; Professor Tim Lang, creator of the London Food Commission; Paul Finch, editor of The Architectural Review, as well as prominent experts in the urban regeneration field from companies such as Urban Catalyst and Civic Regeneration.
George Nicholson added: "We are at a turning point in the UK. Over the past 6 years while developing Borough Market, we have learnt not only a lot about how to develop a quality food market, but how the food industry itself is in need of a revolution. However, retail markets have a crucial role to play not just in the food field. Borough Market has become a focus for the physical regeneration of a whole area of South London around London Bridge. There is no reason why this cannot be replicated in other towns and cities in the UK. Indeed it already is. This event is designed to spread that message loud and clear."
The conference was staged by Market Squared, a consultancy formed by some of the main players in the revival of Borough Market, including Peter Gott of Silfield Farm and Ken Grieg and Nigel Stephenson of Grieg + Stephenson, the architects responsible for incorporating the Floral Hall portico into Borough Market.