The new Unicorn Theatre has named its main auditorium to recognise support from the Garfield Weston Foundation. The news comes as the London Assembly's Val Shawcross took to the stage to help raise £100,000 for the theatre.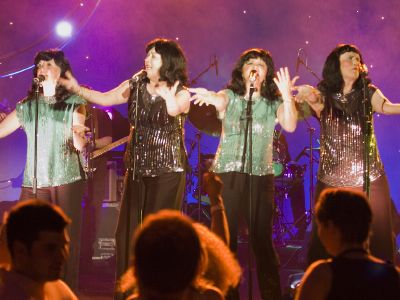 City Sledge – Jo Valentine (London First) Noel Harwerth (TubeLines), Valerie Shawcross ( London Assembly Member), Bridget Roswell (GLA)
Property moguls and London Assembly Members ditched pinstripes for pantaloons and platforms at the 70s-themed Party Near the Park which raised over £100,000 for the Unicorn Theatre for Children on last Thursday night.
More than a thousand property professionals turned out at Old Billingsgate Market to witness industry leaders and CEOs undergo a spectacular transformation, reappearing on stage as Sonny and Cher, Abba, Sister Sledge and The Monkeys amongst others.
Val Shawcross, London Assembly member for Lambeth and Southwark, was one part of City Sledge, a tribute to Sister Sledge. She, along with Jo Valentine of London First, Noel Harwerth of Tubelines and Bridget Rosewell also from the GLA, raised the roof with their very own version of "We Are Family".
"I had a great time, made a complete idiot of myself and laughed like a drain when I saw my wig in the mirror before I went on stage – but it was in a fantastic cause," said Val Shawcross. "I can't wait to see the new Unicorn children's theatre finished and full of excited kids from Southwark going to a proper theatre for their first time. It will be well worth it."
Party Near the Park is in its fourth year. The event's main sponsors are Helical Bar, Knight Frank, Lovells, Montagu Evans, Property Week, Schatunowski Brooks and Welbeck Land. A further percentage of the profits raised will go to property industry charity Land Aid.
Party Near the Park was created by Unicorn board member Alistair Watson from Welbeck Land, and Bob Kidby from Lovells who have given outstanding support to the project. Over the past four years the event has raised almost £350,000 towards Unicorn's new home.

Main auditorium to be called Weston Theatre
The Garfield Weston Foundation supported the Unicorn's project over a three-year period from 2001, helping Unicorn attract other private donors and generate match funding from public bodies such as the London Development Agency.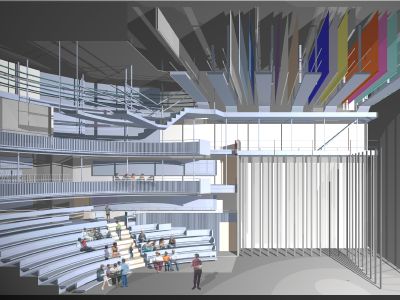 The Weston Theatre is the Unicorn's main theatre space, seating up to 340 in an impressive auditorium capable of both epic and intimate work. The Unicorn's soon to be announced opening production and season will see the space used for a wide range of theatre including classic titles and contemporary works. It is a uniquely designed storytelling space that will accommodate many styles of work. The Weston Theatre will open at the end of this year. The new
Unicorn Theatre
will also boasts a 120 seat studio theatre; the Foyle Education Studio; rehearsal room; foyer and cafe area.
Unicorn is seeking a final £900,000 to reach its £13.3 million target and other naming opportunities remain, including the 120 seat studio theatre (£300,000) and dressing rooms (£50,000 each). Unicorn is running a public appeal inviting members of the public, business and the arts to support the theatre by 'Naming a Seat' for £1,000 in the main auditorium, or purchasing 'gold' and 'silver' bricks for £500 and £100 respectively for the supporting wall. Names of individuals and businesses who donate will be displayed alongside celebrity supporters such as Lord Attenborough, Emma Thompson and Ewan McGregor.