A group of schoolchildren have had a preview of the new state-of-the-art Evelina Children's Hospital as part of Architecture Week.
The £60 million hospital is due to open in October but the nine and 10 year olds from St Osmund's School in Barnes were able to see for themselves London's first new children's hospital for more than 100 years.
The hospital, designed by Hopkins Architects and already been dubbed a 'hospital unlike any other', has a huge glass roof which creates a four-storey conservatory that will be the social heart of the new building. When the hospital opens the conservatory will include a hospital school, café and performance space.
The 140-bed hospital on the St Thomas' site brings together all of Guy's and St Thomas' children's inpatient services under one roof. Currently these services are based in different buildings on both sites.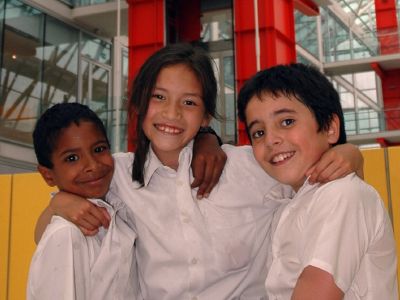 The youngsters were also able to see that each floor has an overall theme of the natural world with each floor representing a different aspect, from the Ocean on the ground floor, to the Sky on the sixth floor.
The new Evelina Children's Hospital has been funded by a generous grant of £50 million from Guy's and St Thomas' Charity and £10 million from central government.
The original Evelina Children's Hospital was founded in Southwark in 1869 by Baron Ferdinand de Rothschild following the death of his wife Evelina in childbirth. It was amalgamated with the children's unit at Guy's Hospital in 1947 and the original Evelina building closed its doors in 1976 when children's services were moved to the newly built Guy's Tower.
• The phe public can see inside the new children's hospital at St Thomas' on Saturday 23 July when there will be an open day from 11am to 4.30pm.