Peabody Trust's regeneration scheme at Coopers Road - off Old Kent Road - has been commended in the Best Social Housing Development category at the National HomeBuilder Design Awards.
Over 80 home builders, housing associations and architects were short-listed for the awards for design excellence and innovation in new homes, which were announced at the weekend.
The recently completed first phase of Peabody Trust's regeneration of the Coopers Road estate in Southwark, replacing post-war mid- and high-rise concrete blocks of council flats, aims to provide a model for sustainable urban regeneration. Designed by ECD Architects, the development has clearly defined private, semi-private and public spaces.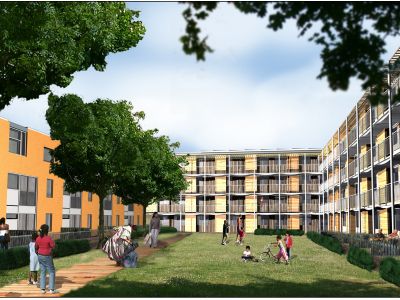 The mix of family houses and flats has been designed to give flexibility in meeting future changes in living patterns. A sustainable services strategy has also been adopted so that the development will easily be adaptable to future changes in technologies. For the apartment blocks, distribution of services is kept to the perimeter to allow for flexibility in future internal planning. The roofs have been designed to allow for the installation of solar panels and all the homes have received an EcoHomes rating of 'Very Good' for sustainability.
The panel of judges consisted of property and design professionals, chaired by former RIBA president, Michael Manser, and looked for schemes that break the mould with their advanced design and construction. Others represented on the judging panel included the Commission for Architecture and the Built Environment (CABE) and the Home Builders Federation.
"This is a great achievement for Peabody Trust," said a spokeswoman for the housing charity. "We are pleased to be recognised for our continuing commitment towards providing social housing schemes for London, using innovative techniques and materials and working with like-minded practices such ECD Architects to achieve this aim."