Southwark Cathedral this Sunday staged a day long celebration inside and outside the ancient building to mark its first hundred years as a cathedral church.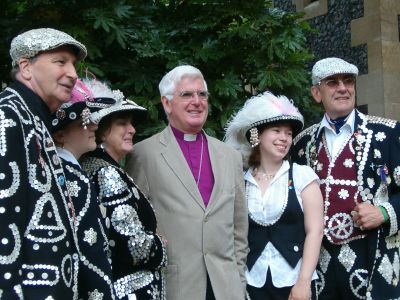 The Bishop of Southwark with South London pearly kings and queens

Prunella Scales and Timothy West are regular members of the cathedral congregation
Prunella Scales and Timothy West read again in
Southwark Cathedral
the address presented to Edward VII when the priory church became a cathedral a hundred years ago to the day.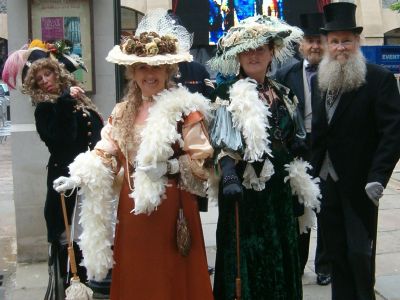 Edwardian characters in the cathedral's millennium courtyard
The reading, recalling Southwark's long history, was part of the Cathedral's Centenary Celebration service during which the Bishop of Southwark described the cathedral as now "standing confidently in a farmers' market".
Market stalls had specially opened to feed the pilgrims from parishes and the mayors of the boroughs within the Southwark Diocese.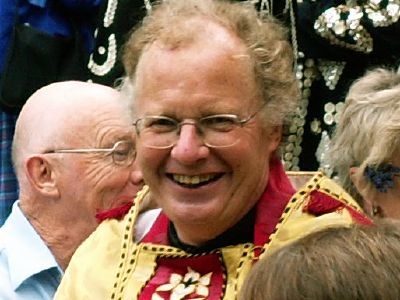 The Dean of Southwark enjoying the party
The Dean, speaking during the morning Choral Eucharist, said that the completion of the Cathedral's Millennium buildings had led to an enlarged mission and that it was important to look forward as well as celebrate the past.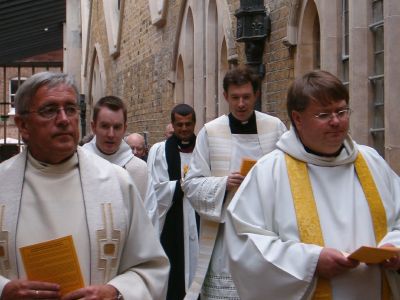 From left to right: the sub-dean of Bergen, Fr Marcel McCarron of St George's RC Cathedral, Southwark, Fr Joabe Cavalcanti from St Hugh's Crosby Row, the dean of Rouen Cathedral and the minister of the Norwegian Church in Rotherhithe
Guests from twinned cathedrals included the Dean of Rouen and the Sub Dean of Bergen.
The inside of the cathedral tower was decorated with party balloons prepared by the Sunday School and described by the Bishop as representing rising prayers.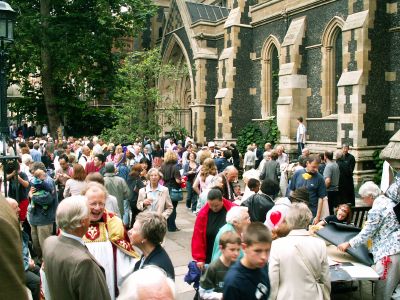 Crowds mingle in the south churchyard after Evensong
The day ended with a release of a hundred doves to mark the next hundred years. The same white birds had been seen the previous day in Hyde Park as part of the Live 8 concert. At the cathedral they rose above the 'Make Poverty History' banners erected for the birthday weekend.