An extra four storeys will be added to King's Reach Tower in Stamford Street and the Milroy Walk shopping area redeveloped after Southwark Council granted planning permission for a new scheme.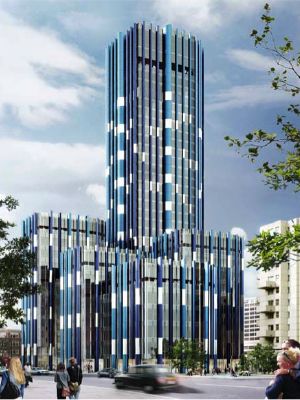 The planned makeover for Kings' Reach Tower
The scheme, designed by leading architects Make, will include the recladding of the existing tower and extension by a further four floors.
The developers, Capital and Counties, say that the "presence of the tower will be transformed with the imaginative use of colour and light". In the case of the existing low rise office building, a new 'office village' will be created .
New retail units and cafés will replace the existing "unattractive and dated" Milroy Walk shopping arcade.
"We very much welcome the decision taken by the London Borough of Southwark and believe the scheme will enhance the local area and complement the regeneration already taking place," said John Saggers, managing director of Capital & Counties.
"The South Bank area is proving attractive to a number of new occupiers drawn by the changes that have taken place to the transport infrastructure and the vibrancy of the environment. We will be spending the forthcoming months refining the details of the project prior to IPC's departure from King's Reach tower in 2007."
Magazine publisher IPC Media is moving to the Bankside123 development in Southwark Street.