Cloud & Vision: William Blake in Lambeth recalls his ten years as a resident of Waterloo.
His productive years in SE1 are the inspiration for twelve artists exhibiting at the Museum of Garden History which is a short walk from where Blake lived in Hercules Road. Indeed he knew the museum building as St Mary-at-Lambeth parish church.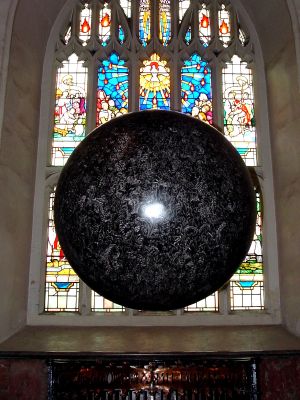 Andy Harper: An Orrery for Other Worlds; 2005; oil, gesso and polystyrene

Hanging above the former baptistry is Andy Harper's An Orrery for Other Worlds. Nearby is Phil Coy's autocue showing the words of Jerusalem projected back to front to recall Blake's printing press.
But the star of the show is a real printing press brought up from Sussex and being used to demonstrate the methods used by Blake to produce his words and images. This Floating Press is today connected to a virtual press on the web.
Surprisingly, the Cloud & Vision catalogue (£5) is an important part of the celebration and contains material not on show. Particularly fascinating is a map of Blake's Waterloo showing Cut Throat Lane zig-zagging across the site of the planned Founder's Place development. Michael Phillips and Jon Newman contribute essays on Blake's SE1.

• Cloud & Vision is at the Museum of Garden History; open daily 10.30am-5pm until Sunday 4 September; voluntary fee £3.
• There will be an evening of performance, demonstration and discussion focussing on William Blake's decade in SE1 on Tuesday 19 July at 6.30pm. Admission is free but booking is essential on 020 7735 8292 or email

[email protected]